Conferences
We know that planning a successful event can be challenging. We're here to help you.
You, your event, and your guests deserve nothing but the best. Suitable spaces, the necessary equipment, lighting, audio, an experienced team and good catering is a foundation you can't do without. With us, you'll receive extra care, in addition to our experience with small meetings as well as fashion shows and congresses.
Choose from 13 conference rooms that can accommodate up to 1,600 guests. You can even reserve the entire congress centre, making sure that you will not be interrupted by other hotel guests or meetings.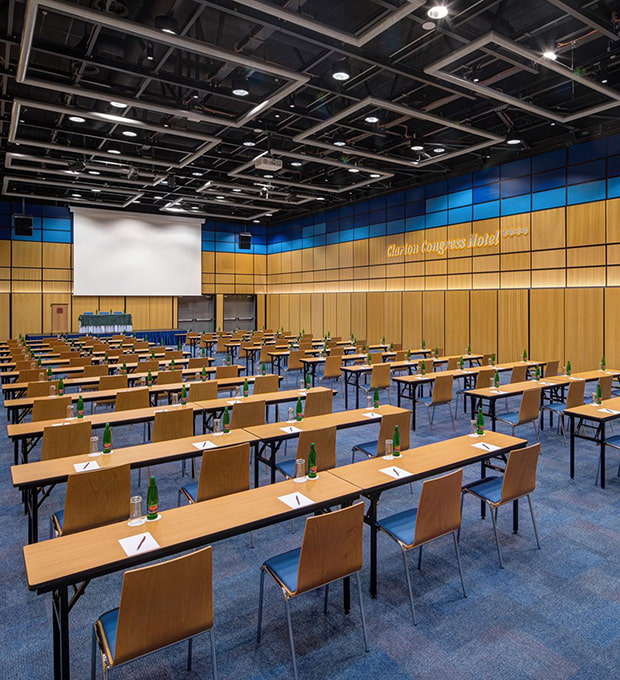 Conference areas
Small meetings, training courses, workshops, seminars, congresses, conferences, concerts, gala evenings ... We have a solution for every occasion. Choose the right venue for you.
conference areas overview
Catering
Refreshments at events must not be underestimated. Leave it to up us. We will help you with preparation and serving. We provide complete catering services to ensure that your guests don't go hungry.
Technical equipment
We provide complete technical equipment for various events, from business meetings, conferences, videoconferences and widescreen projection, to live concerts and TV broadcasting.
Banquet map
Browse the complete menu of all of our congress services. If there's anything you're uncertain about or need advice on, don't hesitate to contact us.
Banquet map
Selected events
Overview of select events held at our congress venue.
January 2020
Colours of Sepsis
1500
December 2019 ⁠-⁠ January 2020
Under⁠-⁠20 World Hockey Championships
300
sporting events
multi⁠-⁠day
June 2019
Golden Spike
300
sporting events
multi⁠-⁠day
September 2020
NATO Days in Ostrava 2019
200
accommodation/catering
multi⁠-⁠day